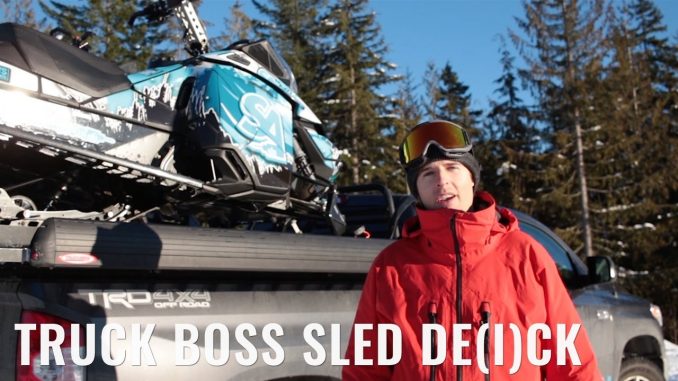 https://snowboardaddiction.com/
I think we can all agree that there is nothing better than shredding deep, untouched fresh pow. Feeling your board float up out of the deep stuff then laying out a big slash, or boondocking off trail and roosting your buddy. Sledding has become more and more popular in recent years; with many snowboarders becoming sled-necks to get away from the crowds and access the backcountry. With the help of a sled, you can quickly and easily lap backcountry lines all day and is far less time consuming and far more energy efficient than split boarding.
However, sleds aren't exactly the easiest thing to fit into your Grand Caravan. Introducing, Truck Boss.
While Nev rides inside the resort boundary when filming tutorials, sending it in the park and, getting first lifts on pow days, he also rides and films in the backcountry. With the help of the Truck Boss Sled Deck, he is able to easily get to the spot, get up the hill and shred. On and off the sled!
It's easy to see why Nev really loves his deck. It's big, sturdy and extendable. You might not know, but he is often seen strutting around Whistler showing off his deck, and honestly, most guys are jealous of his deck. See for yourself how much he loves his deck.
Read the full blog here:
https://snowboardaddiction.com/blogs/…
Like our gear? Go to http://snowboardaddiction.com/collect… to get it for yourself!
FOLLOW US!
Facebook: http://on.fb.me/1GlT55K
Instagram: http://bit.ly/1HuvQKz
Twitter: http://bit.ly/1CDPOUz
Enjoyed the video? Be sure to LIKE, COMMENT, and SUBSCRIBE below!