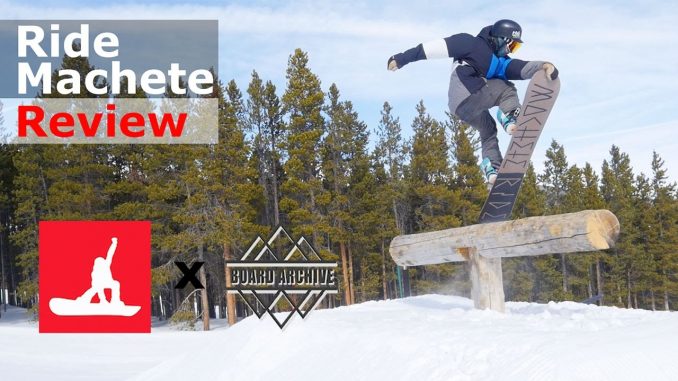 [Total: 11 Average: 4.4/5]
Get the Ride Machete snowboard:
http://bit.ly/2eVvIeB
Get my goggles: http://bit.ly/2egp6ch
Read our written review: http://boardarchive.com/ride-machete-…[/url]
**This snowboard review is true for both 2016 and 2017 models. The Ride Machete snowboard has not changed at all for 2017 other than the graphics and shape of the tip and tail which will not affect the way it rides**
In this snowboard review video we are testing out the Ride Machete snowboard at Breckenridge Resort, Colorado. The Machete is a great do-it-all kind of snowboard that features flat camber, medium flex, and a lot of carbon fiber built into the board to make it more responsive and poppy. This board is fun in the park, but isn't so playful that it will slow you down as you explore the rest of the mountain which is great. The highlight for me on this board is how poppy it is despite being flat camber; normally flat camber snowboards struggle with pop, not the Machete. If you have any questions about the Ride Machete snowboard or any requests leave them in the comments below or reach out to us on social media, and make sure to visit boardarchive.com for the full review of the Ride Machete!
TJ INSTAGRAM: @boardarchive
KEVIN INSTAGRAM: @snowboardprocamp
TJ FACEBOOK: https://www.facebook.com/boardarchive
KEVIN FACEBOOK: https://www.facebook.com/snowboardpro…
FILMED BY: https://www.facebook.com/mikekvackayv…
SUPPORT AND GET REWARDS:
https://www.patreon.com/snowboardprocamp
BUSINESS CONTACT: snowboardprocamp@gmail.com
Instrumental produced by Chuki: http://www.youtube.com/user/CHUKImusic