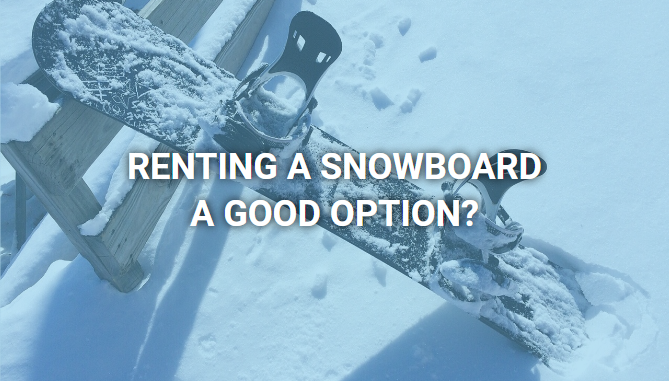 If you are new to snowboarding, renting a snowboard is a great way to get started. Although there is nothing like having your very own snowboard that is all set up to your own liking, renting can actually offer a quality experience. A majority of beginners rent their equipment — especially the first few times out to the mountain. Even experts rent from time-to-time. It gives the rider an opportunity to experience different brands and styles of gear, which is beneficial because there are so many options available these days. An experienced snowboarder may also head to the rental shop depending on the daily snow conditions. Here's an example. If a rider shows up with a shorter board ready for freestyle in the park, what if a huge snow dump comes in that day? He/she may be better off renting a longer board that handles better in all-mountain deep snow and powder for the day. Smart.
Beginner Snowboarder
Just trying something new
Not knowing what exactly to get
Cheaper way to get started
Can try different sizes
Experienced Snowboarder
Use a board more appropriate for daily conditions
Try new brands and styles
Own snowboard is damaged
Oops. Forgot mine!
What to look for when renting
There are many different types of boards available that suit different levels of experience. When renting a board, make sure it is the right size for you and your skillset. Be sure to ask for advice from the staff at the rental shop for valuable tips on which type of board is best suited for your needs and skill level. With the right equipment and knowledge, you'll be ready to hit the slopes in no time!
1) Goofy vs regular
By far the most important thing to know when renting a snowboard is if your are goofy-footed or regular-footed.
Goofy stance has your right foot in the front
Regular stance has your left foot in the front
For those who are just starting out, it is important to consider your dominant foot when selecting a stance. If you have no idea, here is a good way to tell. Find a hardwood floor or a slick tile floor surface. With just your socks on, get a running start and have a slide across the room a couple times (yes, Risky Business style!) Naturally one leg will tend to be in front. BAM. There you go.
Ultimately, choosing between goofy or regular stance comes down to personal preference and what feels most comfortable for each individual rider.
2) Snowboard size
The next most vital thing to know ahead of time is what size snowboard you want to use. As a general rule of thumb, you want to choose a board length that comes up to you collar-bone to chin when holding it in front of you.
A few other factors come into play, like snow conditions, experience level and style of riding. Luckily, Frosty has whipped up the handy snowboard size calculator to get that sorted out for ya.
Ultimately, you can always just ask the friendly technician at the rental shop and they can recommend a board size for you no problem. They probably have the Frosty Rider snowboard size calculator bookmarked on their phone 🙂
3) Check it over
Once you have received your rental snowboard, give it a check-over while still inside the building. This can save any potential hassles later on when out on the snow. Check for things like:
Make sure the boots you receive fit properly. Look for a snug fit but not too small. Toes should not touch the inside toe-box.
Ensure the boots fit into the bindings properly. Binding straps need to fit well and provide support and adjustability. You should be able to easily strap in, tighten, and release the bindings with your gloves or mitts on.
Check that the binding high-backs are adjusted to give a few degrees of lean forward when strapped in. This helps keep your knees bent slightly when stopping and turning heel-side.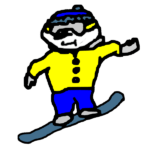 Quick Tip:
Consider reserving your rental board ahead of time. You can choose a rental company in town the day before as opposed to trying to beat the crowds at the mountain on your intended snowboarding day.
Conclusion
Now that we have looked at the tips for renting a snowboard, you can see that it is not as complicated as it may seem at first. By taking the time to choose the right size and type of board, you can ensure that you have a safe and enjoyable ride down the slopes. Be sure to check over the snowboard before taking off to make sure it is in good condition and ready to go!
Join us at the forums and get more personalized tips about how to enjoy your time in the snow.
Woooosh! 8