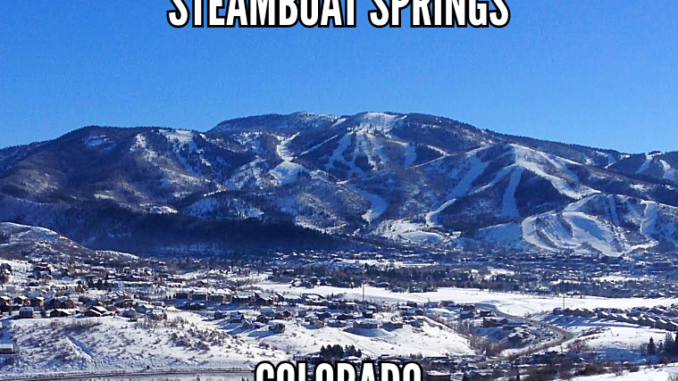 Colorado is known for being a deep well of popular snow sport locations. The state is whimsically adorned with many mountain towns, making it one of the best travel destinations for those adventure-seekers who love to ski and/or snowboard. In fact, people come from all over the world to tackle some of the state's illustrious mountains.
There are many famous spots in Colorado to set your sights on, and Steamboat Springs is definitely one to make note of. If you haven't been here before and are curious about what makes this ski and snowboard hub so alluring, here are a few reasons why you should definitely consider this location when planning your next big mountain adventure:
Steamboat Springs Can Accommodate Any Experience Level
Located about three hours northwest of Denver in the upper valley of the Yampa River, Steamboat Springs boasts nearly 3,000 acres of rideable terrain and 160+ trails. The diversity of trail options allows you to easily find what you need no matter if you're looking for beginning, intermediate, or advanced options.
Steamboat Springs also offers amazing opportunities for tree-riding, so you can elevate your snow skills while being surrounded by glorious aspens (just be sure to take proper safety precautions if you do decide to take this route).
If you're wanting to ditch the lines and the crowds, there is also no shortage of backcountry options that will allow you to bask in the mountain beauty in the purest way possible. If you and your buddies want to enjoy riding on majestic terrain all while having an open area of fresh powder to yourselves, Steamboat Springs is an excellent place to do so. There are snowcat and guide services available to get you out into the backcountry safely and easily, helping you ride responsibly and preventing you from getting lost in the great outdoors.
Steamboat Springs Is Connected to Nearly 100 Winter Olympic Athletes
When winter Olympians themselves have a strong connection to a mountain town, it's a pretty good indicator that the location-in-question is the real deal. Steamboat Springs is often said to have the most winter Olympians linked to it than any other town in the country.
Whether the Olympians grew up, trained, or currently live in Steamboat Springs, it's pretty amazing to step foot in a town that in some way propelled such a vast amount of talent. A notable example is Chad Fleischer, a ten-year veteran of the US Ski Team, who currently owns Fleischer Sport, a ski and snowboard rental shop in Steamboat Springs.
It's Impossible to Get Bored in Steamboat Springs
For being a small mountain town, Steamboat Springs is not short on things to do. No matter how much you love snowboarding or skiing, you'll most likely want to have access to other recreational activities in order to better round out your vacation. Here are a few alternative pastimes to consider when you're in town:
Strawberry Park Hot Springs. This is a favorite hot springs of Colorado residents, making it an ideal way to relax and soothe yourself after a long day of shredding the gnar.
Tubing. If you want a break from your board or skis but still want to play in the snow, sledding down a big hill on a tube can't be beat.
Fine Dining and Brewing. Spending all day on the slopes is an easy way to work up a serious appetite, and Steamboat Springs is no stranger to delicious grub and local breweries. Whether you're in the mood for craft beer, fine wine, upscale cafes, or modest eateries, you can find exactly what you're looking for. In fact, the dining scene in Steamboat Springs has taken off so much that the New York Times even wrote up an article about it that you can find here.
Shopping. Apparel, souvenirs, gear, bikes, etc. are a few of the things you can find when you explore Steamboat Springs' diverse shopping opportunities.
Museums. If you'd like to get to know more about the history of Steamboat, you can visit the Tread of Pioneers Museum, or if you'd rather look at some excellent local art, you can visit downtown's Steamboat Art Museum.
Calendar of Events. To see what enticing happenings will be taking place when you're in town, take a look at the always-packed calendar of events. Live music, parades, snowboard races, and art-walks are just a few examples of what kind of fun you and the whole family can get into.
Happy Travels!
Hopefully this article helps point out some of the main reasons why Steamboat Springs is known for being a snow sport haven. Abundant in trails, space, and outlets for snow-filled fun, you won't regret coming to this town that exudes the perfect balance of cowboy-style friendliness and modern luxury. Happy shredding!