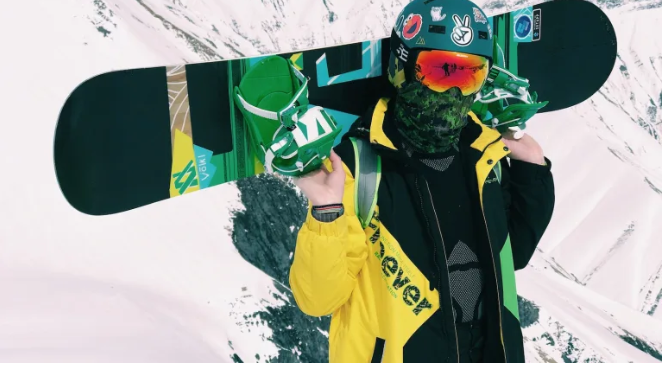 Dressing in layers of clothing is your best bet for staying warm and comfortable
As with any winter outdoor activity it is very important to make sure you are properly outfitted, and this is especially true in the case of snowboarding. In order to get pleasure from a day out on the snowy mountains you need to remain warm and dry. Knowing how to dress can make a big difference. The more comfortable you are out there the more fun you will have. Your choice in clothing can be all the difference between a successful day and a miserable one.
Snowboard clothing is all a matter of layers.
Not simply wearing layers of clothing, but the kind of clothing is key. Different materials perform differently. Mountain weather changes rapidly, so bring all your gear with you in a duffle or backpack. Then whatever items you do not need for the time being, stash securely in a locker. Most ski area lodges have lockers available for a small fee, and getting one is really worth it! Read more here about how to choose clothing items that are the right fabric composition:
Base layer

This is the layer that comes in contact with your skin, like socks and long underwear — a.k.a Thermals. The important thing with base-layer clothing is the materials that it is made from

Avoid Cotton:  Cotton is notorious for absorption of moisture. Although the idea sounds good at first, the problem is the moisture from your perspiration gets absorbed by the material and then remains there, soon leaving a damp, cold feeling right against the skin. Shiver me timbers!
Polyester is good:  Comprised of oil-based synthetic fibers, polyester is hydrophobic which means it actually repels moisture (moisture-wicking). It allows your perspiration and other moisture from snow and rain to move away from the skin. Another name for it — especially when referring to soft knit thermal underwear is polypropylene. Look on the tag for indication of the material used. If it says polypropylene, it's the best choice.
Other materials are just OK:  If you'd rather not choose polyester to opt for a more natural fiber, silk and wool are available alternatives. These materials have a long-proven track record throughout history; however the performance and comfort of modern polyester-based fabrics simply cannot be beat.

Mid layer

The mid-layer is what will keeps you insulated against the cold air. Depending on the climate, either a sweater or vest can be worn. Many snowboarders skip the mid layer for the lower body unless it is extremely cold. For the top, it is convenient to have something that can zipper up and down, at least partially. As is the case with the base layer material, synthetic fabric is optimal, so leave the Carhart's and Levi's at home. The idea is for the moisture to continue to move away from the body. A really good choice for the mid layer is polyester fleece which is available in a variety of thicknesses. Look for fleece or micro-fleece pants, jackets or pullovers sweaters.

Outer layer

This will be your pants and jacket (or parka). This layer needs to be resilient and easy to wear. You'll need something that is strong enough to protect you from the wet snow and the wind, but it should also be comfortable enough to enable you to move around freely. Snowboard pants come lightly insulated or non-insulated.  The fit is very important.  Most of these outerwear fabrics are not flexible, so you need to have enough room to move comfortably. That's why snowboarding pants often look "baggy". It is a good idea to find pants with belt loops or use suspenders that can clip on. Some snowboarding pants have suspenders built in. It's a matter of preference. A whole lot of motion is required while snowboarding and if your trousers are not held firmly in place they can easily slip down. A simple belt or suspenders will keep your trousers secure, keep you dry, and prevent embarrassment from happening. Snowboard Jackets like pants should fit loosely. Look for ones with lots of pockets and zipper vents, which are convenient for warmer days. Snowboard jackets and pants are made from tightly woven nylon which provides strength and protection from the elements while remaining thin and lightweight. When choosing outerwear, look for something that claims to be "waterproof and breathable". The famous material Gore-Tex pioneered this amazing technology, but these days there are a variety of companies making similar products.

Gloves and mittens

Hand coverings are essential for snowboarding. On warm days it may be tempting to venture onto the mountain without them. Don't do it. Your hands need protection and conditions can change rapidly. Failure to protect your hands can lead to cuts, scrapes, or even frostbite! Options of materials range from waterproof-breathable nylon (like outerwear) or waterproof leather. The choice of gloves vs mittens is personal preference, although it is generally accepted that mittens will keep your hands warmer when the temps get really cold.

Other accessories

Face coverings are handy for really cold days — especially when riding on the chairlift where it can get extremely windy. You can find them at just about any ski shop. It's nice to have one that can fold up and can be stashed in a pocket.
Helmets are worn by the vast majority of riders these days. In addition to providing essential protection for your noggin, most are remarkably comfortable providing protection from the elements.
Eye coverings are a necessity. Goggles provide the optimal mix of comfort, protection, and convenience. 
In summary
If you remember these tips for choosing the right snowboard clothing you will help you have a fantastic time out on the mountain, like how you want. You will stay dry and warm all through the day, even if you happen to fall down from time to time!
Amazon is a great place to pick up essential snowboarding gear.
Wooooosh!