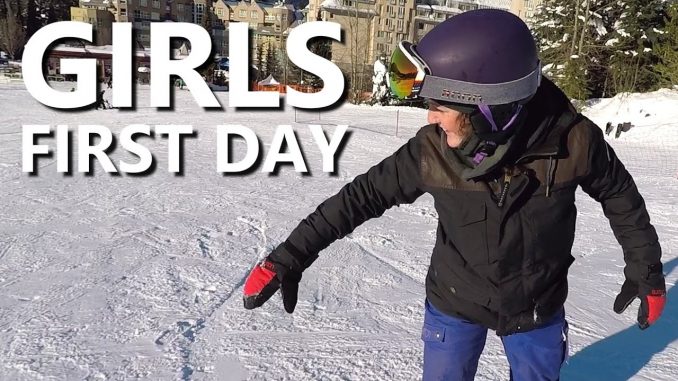 Today we're teaching three friends on their first day of snowboarding!
We're taking them through all the beginner snowboarding steps from learning how to skate to linking turns on the bunny hill. Before starting we did a quick snowboard gear check. It's important that your snowboard boots are tightened properly when learning to snowboard and that your snowboard is set up properly. Next we found out which one was the girls front foot by running and sliding in the snow. Your dominant foot need to be in front when learning beginner snowboard turns. Once we got our front foot we practiced skating and snowboarding down with one foot strapped in. This is good practice for getting off the chairlift.
Next we headed to the beginner snowboarding area to practice our heel and toe sliding with both feet strapped into our snowboard.
By practicing sliding you learn to stop and change the direction of your snowboard.
Finally we practice doing beginner snowboard turns.
It took a few attempts with some help, then a few small crashes, but all three girls linked a few turns together! For more beginner snowboarding tips check out the beginner snowboarding playlist! If you have any questions about your first day of snowboarding you can leave them in the comments! Thanks for watching!
KEVIN INSTAGRAM: @snowboardprocamp
FACEBOOK: https://www.facebook.com/SnowboardPro…
TWITTER: https://twitter.com/snowprocamp
BUSINESS CONTACT: snowboardprocamp@gmail.com
MUSIC: https://soundcloud.com/colemcguirk/wa…