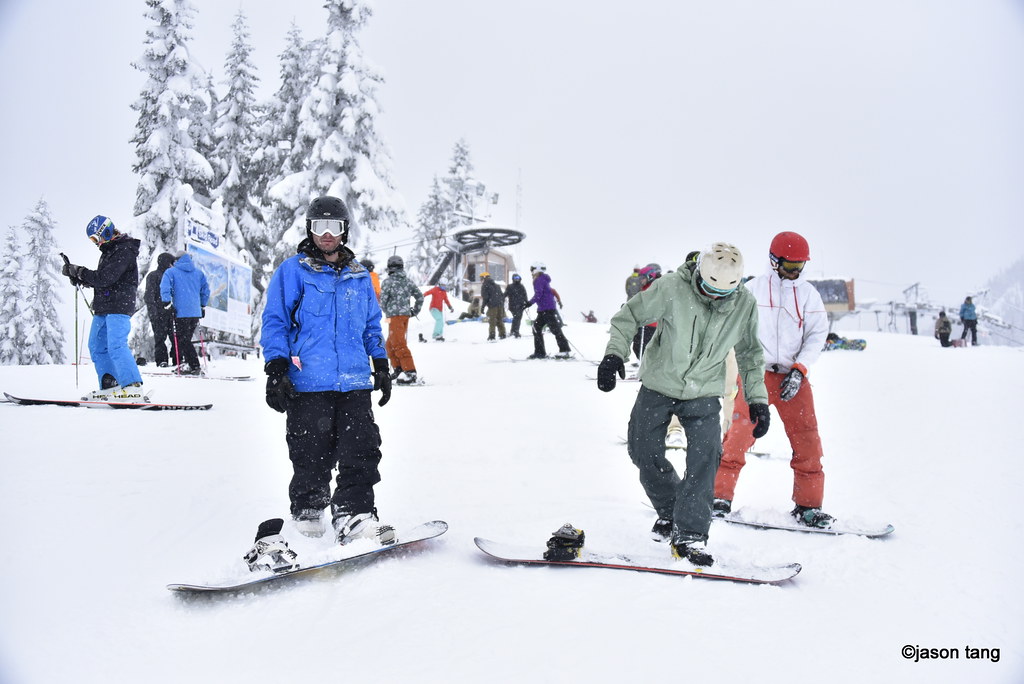 Are you looking to plan a snowboarding trip with friends but don't want to break the bank? Organizing a snowboarding trip can be a lot of fun, but it can also be stressful if you don't plan ahead. With some careful planning and research, you can save money while still having an amazing experience.
Here are some tips for organizing your perfect snowboarding trip without breaking the bank!
SNOWBOARDING WITH FRIENDS
Guest Post by: Chris:
Let's face it, organizing dinner with friends can be challenging enough.  But when you're thinking bigger, like a weekend or weeklong snowboarding trip, many more variables come into play. 
Here's 5 ways to help control costs for your next boarding trip.
1. Survey the Budget
For those friends that you want to go riding with, see how much everyone is willing to spend.  This means on accommodations, on travel (plan/gas/car rentals) and on lift tickets.  Figuring out the ballpark range here and first can help you save much time and allow you to better focus your search to only locations that work with the price range you and your friends are looking for.
2. Book Flights Early
Book a flight early.  Certain airlines like Southwest may allow you to book and cancel a reservation at no extra charge as well.  Another thing to consider when booking is what the airline policy is with luggage.  While a ticket from Carrier A may be $20 cheaper than Carrier B, if Carrier A charges $50 for oversized luggage, you'll end up spending more to ship your boarding gear.  Additionally, try to book the same flights or same flight times as friends.  Doing so can help you save on cab fare to and from the airports as you get to and from your destination.
3. Allocate Money Towards Snacks, Food & Drinks
Food adds up quickly, especially if you're buying a sandwich here and a soda there when on the slopes. Before you know it, you'll end up spending $20 or $50 on food that might not necessarily keep you full or taste that delicious. Designate someone to be responsible for food for the trip and to stop by the grocery store when they land.  What would I recommend they purchase?  Milk, Cereal, Energy Bars and ingredients for sandwiches such as PB&J or Turkey & Cheese Sandwiches.  These foods should allow you to stay energized on the slopes and easily fit into your backpack or camelback as you ride.
4. Seek Out Student ALL Discounts
Many mountain resorts in the US offer student discounts.  For example, Mammoth Mountain in California offers [used to offer] a student season pass that is over 50% off of the regular price of a season pass.  Search online or call the resort to see what they can do to help you save money.  You'll be surprised; sometimes simply asking nicely can score you some nice small discounts either on lift tickets, meals or drinks.
Lift ticket deals can be found for:
Multi-day
Students
Learn-to-snowboard
Children
Seniors
5. Call Restaurants Ahead
Has it been a slow evening, or has it been a slow snow season in general?  Call restaurants ahead of time and pit them against each other.  Talk to the manager and see if they'll be willing to offer your party a discount or throw in an appetizer if you guys head there for dinner.
Best of luck with these tips!  If you know if any more tips you'd like to share, feel free to add them below!
About the Author: When Chris isn't snowboarding, he's guest blogging for YourSash.com, a leading provider of custom graduation stoles and sashes.