The Original Snowboarder Snowman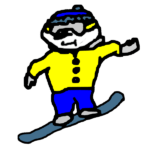 Since 1998 FrostyRider.com is the original in snowboarding info online. Beware of cheap imitations. This site contains open information on snowboarding and stuff related.
Contribute
Frosty is primarily a host here. Content is very much user-driven. This site relies on users to contribute in this cool environment. Here is how to participate:
Content Rating – Anyone can rate content. No account necessary. It's easy. On the right sidebar (or beneath content if on a phone) on forum topics or articles, look for the section that has the five stars. Here you can click to rate the page from one to five.
The ranking of highest rated content can be viewed here. Awesome.
Article Comments – Snowboarding and winter-sports articles by Frosty and other contributing authors are provided in the Articles section. Many of these have a comments section at the bottom. Feel free to comment on the articles. You first need to register here or log in here. It's easy, free, and keeps the riff raff out.
Forum Discussions – Now we're getting REALLY fancy. Here is where you can shine by posting your own topic. Just about anything is cool, from gear reviews, to details of a recent fun trip to the mountain, to just chit-chat. You can also comment on what others have posted. Check out the Forums here.
Connect
You can find us on Follow us on Facebook and Twitter, but honestly we don't hang out there much, so if you want to get in contact with Frosty and crew, contact us here.